​Museus De Sitges Museum
Two of the museums in Sitges, The Cau Ferrat and The RE-OPENED AFTER RENOVATIONS

Cau Ferrat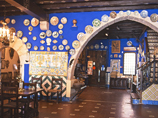 Home & studio of painter/writer Santiago Rusiñol (1861-1931), and meeting place for Catalan Modernisme artists. It includes works by Rusiñol, Ramon Casas, El Greco, Zuloaga and Picasso, among others. It also houses important wrought iron, glass, drawing and ceramics collections.
The temple of art excellence
Two fisherman's houses in late 1800's (19th Cent)
Combined by Santiago Rusiñol for home/studio
(Barcelona 1861-Aranjuez, 1931)
Became a sanctuary & Bohemian hideout
Then a shrine with vast artistic collection
Two paintings by El Greco
Renouned collection of 800+ wrought iron objects
Many Catalan, also Castilian, French and Central European
Glass pieces many from archaeological excavations in Ibiza in 1913
Many ceramics, 200+ 14th – 19th Cent from Catalonia, Valencia, Castile, Aragon, Andalusia and Murcia
Furniture and sculptures
Painting and drawing
Catalan ​Paint​ers (19th – 20th Cent):
Ramon Casas
Pablo Picasso
Arcadi Mas i Fondevila
Isidre Nonell
Hermenegild Anglada-Camarasa
and ​others​…
Stays by:
Joan Maragall
Emilia Pardo Bazá
Eugène Ysaye​ (Belgian musician)​
Ernest Chausson​ ​(Belgian musician)​​
Visitors:
Angel Guimerà
Benito Perez Galdos
Angel Ganivet
Manuel de Falla
Artist, storyteller, collector, tireless traveller, successful playwright, amateur archaeologist, journalist and above all, pioneer of the modernist movement.
Santiago Rusiñol was an intellectual and incredibly passionate character.
Making Sitges a Mecca for Modernism with Rusiñol at the helm.
http://en.wikipedia.org/wiki/Cau_Ferrat_Museum
RE-OPENED AFTER RENOVATIONS


---
---
MAP OF ALL MUSEUMS