Overview
​Museus De Sitges Museum
The Fundació Stämpfli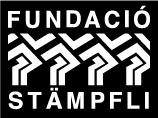 STÄMPLFLI FOUNDATION – Art Contemporani is the new centre that exhibits an art collection consisting of more than 70 works by 60 recognised contemporary artists from 21 different countries.
The Museum, established with the support of the mayor of Sitges and the Generalitat of Catalonia, presents a significant body of art of the twentieth century, from the sixties to the present day.
Contemporary Art museum 1960's to now
70 works by 60 artists from 21 countries
Via Sitges Council
Generalitat de Catalunya
Peter and Anna-Maria Stämpfli
Lluís Jou i Mirabent
​Advisory ​Board​:
Serge Lemoine
Henry-Claude Cousseau
Pascale Le Thorel
Daniel Giralt-Miracle
Lluís Jou i Mirabent
La Fundació Stämpfli i l'exposició 'L'Art modern website
( Stämpfli Foundation & exhibition of Modern Art)
No. 16 Fundació Stämpfli Carrer d'en Bosc (DIRECTIONS)
museusdesitges@diba.cat
Guided cultural activities
Sunday Guided Tours
Every Sunday from 05/10/2014 to 11/23/2014.
Guided tour that will grasp the importance of Deering and cabbage • Memorabilia early twentieth century. The tour will end within the lounge with a glass of Cava. Palau Maricel, C / Fonollar, s / n
Sunday: 12: 00h. Language: Catalan / 13: 00h. Language: Spanish
Price: € 6.50
Reduced: € 4 (pensioners, students and Youth Card)
Includes: Palau Maricel, Romantic Museum and LC Stämpfli
Info and reservations: Romantic Museum- Museu Romàntic. C/ Sant Gaudenci, 1 – 93 894 29 69
ALL INFO SUBJECT TO CHANGE
http://www.museusdesitges.com/?page_id=857&lang=en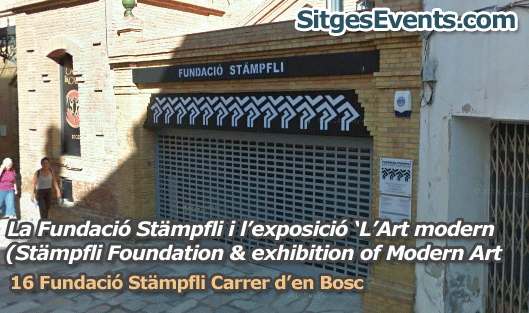 ---
---
MAP OF ALL MUSEUMS

Visited 6514 times, 1 Visit today